Car Hits Pole on Main Street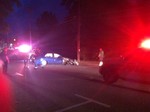 Photo by Jim Lennon. Car Hits Pole on Main St.

July 11, 2013

from Jim Lennon

At approximately 9 pm, Monday, July 8th a car ran off the road and struck a power pole on Main Street between between Tamara Lane and Hazen Street. The accident occurred soon after the meeting at the Town Hall.

Both Town and Village Police as well as Highland Engine Company and COVAC were on the scene. Cause of the accident is under investigation.


Comments:
Add a Comment:
Please signup or login to add a comment.