Moodna Creek Embankment Erosion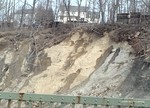 Moodna Creek photo by Jim Lennon.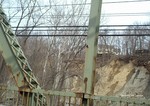 Moodna Creek photo by Jim Lennon.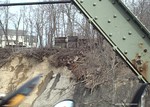 Moodna Creek photo by Jim Lennon.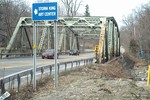 The bridge over the Moodna at Route 32. Photo by Jim Lennon.

April 03, 2012

Jim Lennon took these photos of embankment erosion of the Moodna Creek riverbank in the area of the New York State Route 32 at the steel bridge in Cornwall.

He points out that the erosion is encroaching on structures above the creek that sit on the west side of Mill Street and says it resulted in large part from the flooding from Hurricane Irene and the many other storms we have had since.

Lennon writes: "The pictures speak for themselves and illustrates the creeping threat, which will undoubtedly continue to be exacerbated by future seasonal rainfall and storms, and along some parts of Mill Street there are cracks in the blacktop pavement in the southbound driving lane and shoulder. In places the steel barricade along the edge of the ravine is tilting toward the creek and the earth that is supporting it has been undermined, all of which may be evidence of the beginnings of a washout of earth under the paved surface which, if not repaired, could eventually lead to closure of the roadway."


Cick on any photo for a larger view.




Comments:
I think rt 32 is in great shape compared to Mill Street. It is only a matter of time before a chunk of Mill Street slides into the Moodna. The edge of the cliff is only a good twelve-fifteen feet from the blacktop. I would encourage people to take a slow ride past the stacked wood off of Mill st and realize the edge is right there. You can look straight down to the creek. It's a tragedy waiting to happen. When heavy rains eventually come, it will be at the very least, interesting to behold.
Jim you really summed it up. The pictures you took show the community the possible threat of the erosion. The rain showed us how much damage it can do. I hope that the Quaker Mill residents take note, since they are closest to the possible road collapse.
Add a Comment:
Please signup or login to add a comment.