Spider Meadow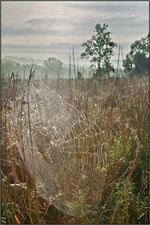 Spider Meadow. Photo by Tom Doyle.

September 27, 2010

Tom Doyle was in the Moodna Valley last Wednesday morning when, he writes, he decided to shoot this large orb web while including the misty hills in the background.

He explains that because of the extensive depth of field and a sky that was much brighter than the foreground, he needed to merge two images in Photoshop to make it look the way it appeared to the eye, technically tricky but accurate.

Doyle will be teaching a class,The Basics of Landscape Photography, at the Desmond Campus of MSMC starting October 16th. It will be held on six consecutive Saturdays, four in the classroom and two in the field. Classroom sessions run from 10 am to noon, while field sessions start earlier to take advantage of morning light. The cost is $110.

Those who are interested may obtain more information from Tom via email at [email protected] or by phone at 845-642-8348. To enroll call Carolyn Mundy or Joan McAdam at (845) 565-2076.




Comments:
Add a Comment:
Please signup or login to add a comment.