O & W Remains at the Riverfront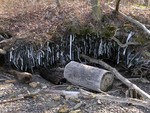 O & W Remains by Frank Ostrander.

July 07, 2010

Frank Ostrander took this photo that shows how the erosion of the shoreline at Cornwall Landing reveals an old dump in the vicinity of the famous coal dock which burned in 1952.

He writes that "these are wire scraps and insulation discarded by what must have been a signal department shop of the New York, Ontario & Western Railroad."

Click on the photo for a larger view.



Comments:
A buddy and I took a walk in this area to see what was left of the old coal yard and saw these as well. They don't look like wire used by the railroad, but I had heard that the dock was used by a company that salvaged ships. Could these be what is left of the wiring pulled from the ships after the wire was removed?
Add a Comment:
Please signup or login to add a comment.