Schools: Playdate at COH Elementary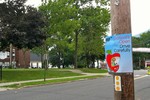 School's open, drive carefully.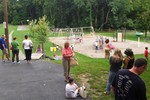 COH school playdate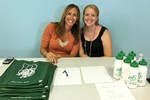 COHES PTO Treasurer Sharon Murphy and President Karen Rothman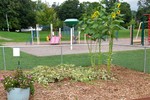 COH school student garden

September 05, 2012

The Cornwall on Hudson Elementary School Parent Teacher Organization held their annual Playdate on Tuesday. New students, including those entering kindergarten, and returning students were encouraged to attend. The principal Gail Wehmann welcomed the new students with an orientation.

The PTO handed out popcorn to the children and sold water bottles and other spirit gear to raise money for the school. The PTO also encouraged parents to fill out forms with their local grocery store shopping card numbers, a quick one time sign up gives each school credits and donations for the entire school year. Fundraising programs such as the Price Chopper Tools for Schools, Labels for Education, Hannaford Helps Schools, Box Tops and Target's Take Charge of Education all give back to our local schools based on the community's participation.

The children ran out to the back of the school to play and see their friends, play on the playground and find out who everyone got as a teacher. The students were also encouraged to visit their new classrooms and meet their teacher. Some students dropped off their supplies and looked to see where their assigned seats would be for the start of the school year. Parents had the opportunity to chat with the teachers about the new national curriculum and the changes ahead. The students chatted about what they did on their summer vacation, what they look forward to for the new school year, and about how fast the summer flew by.


Comments:
Add a Comment:
Please signup or login to add a comment.