General News: Railroad Playhouse Opens to the Public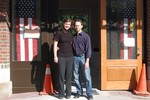 Jen and Seth Soloway outside the West Shore Train Station that is the home of their new theatre, the Railroad Playhouse.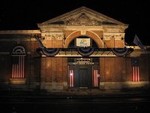 The West Shore Train Station at night.

November 16, 2010

The public is invited to get onboard the new Railroad Playhouse, which is opening its doors this weekend inside the fabulous West Shore Train Station that has been restored to its original luster by contractor Ray Yannone. Yannone and architect Giovanni Palladino were honored this past weekend by the Orange County Arts Council for their work on the 100-year-old brick building.

The co-founders of the Railroad Playhouse, Jen and Seth Soloway, chose the station to create a space for high-quality, artistically creative performing arts experiences. The couple, who moved to Cornwall from Brooklyn recently, say the playhouse will provide a home for playwrights to workshop and showcase new plays as well as to present local, national, and international artists of all genres. Key to their plan is building partnerships with local businesses and organizations to continue revitalizing the city of Newburgh, offering a summer arts camp for local children and teaching-artists residences in local schools.

Staged Readings and a Dance Performance This Weekend

For now, as they raise the curtain on their new theatre, the Soloways want people to come in for a tour and view the premiere art exhibit by the artist Kevin Tong. Guests will be offered a chance to make a lasting impression through sponsorships and naming options, such as by naming a theater chair or sponsoring a playwright, and they also can record their memories of the historic West Shore Train Station in the public scrapbook and add their historic photos to the collection.

People will not want to miss the live performances planned in the new theatre space.

On Saturday, visitors can see staged readings by Alex Goldberg, the theater's first playwright-in-residence, that will be directed by Seth Soloway, who is the artistic director.

On Sunday, families will enjoy a special hip-hop dance workshop with special guest Janalee Wedenko of Janalee's School of Dance.

For a complete schedule of weekend activities, visit the Railroad Playhouse at www.rrplayhouse.org.




Comments:
Add a Comment:
Please signup or login to add a comment.