General News: Assemblyman Schmitt recognized Merritt Florist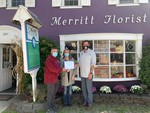 Assemblyman Colin Schmitt presents certificate of merit to owner Betsy Sharo and her husband, Ray.

October 18, 2020

Assemblyman Colin J. Schmitt (R,C,I- New Windsor) has a small business of the month appreciation program designed to show appreciation for a local small business in his district each month. For the month of October, Assemblyman Schmitt recognized Merritt Florist, located at 275 Main Street, Cornwall, NY 12518. Merritt Florist, a woman owned business, is owned by Betsy Sharo.

Assemblyman Colin J. Schmitt stated, "Congratulations to Merritt Florist for being named 99th Assembly District Small Business of the Month for October 2020. Merritt is there to provide flowers for the Cornwall community during the happiest times of life and well in times of mourning. Betsy is a well regarded Main Street business and I am so happy that she continues to serve our community through the COVID-19 pandemic and beyond. Betsy and her husband Ray are heavily involved in community service as well. I salute them for always giving back to others."

Betsy Sharo, Owner of Merritt Florist stated, "I am so happy to be a Main Street business and serve the greater Cornwall community. I thank Assemblyman Colin Schmitt for presenting us with this honor. Merritt is here for the community year round and I appreciate the support from all our customers over the years. As a woman owned business, we can always count on the support of Assemblyman Schmitt whenever we need questions answered or guidance. Without Assemblyman Schmitt, my business would not have survived the COVID-19 pandemic. He was instrumental in getting my business re-opened and my bills paid for my family. I am so grateful to have earned this honor.



Comments:
Add a Comment:
Please signup or login to add a comment.