Cornwall Independence Day Celebrations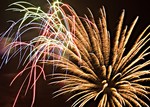 A fireworks display will highlight the day's festivities.



The annual Cornwall Independence Day celebration will take place at Cornwall Town Hall Park, with a pet show at 10 a.m., craft fair, the Main Street Mile, annual parade and fireworks. A children's art show will be on display all day long.

Here's a look at the highlights of this year's 4th of July celebration:
7:00 – 11:00am Cornwall Independence Day Breakfast (Highland Engine Co.)
10:00 – 11:00am Pet Show (registration: 9 a.m.) by Catholic Daughters of the Americas
All Day Children's Fourth of July 4th Art Show
All Day Inflatable Rides
10am – 2:00pm Lobster Sale: Cornwall Lions Club (534-4345)
10am – 4:00pm Crafts Fair and Services, Activity & Merchandise Vendors
11am – 3:00pm Pati's Pony Rides
11:15am – Noon Children's Games
Noon – 12:45pm Cornwall Independence Day Pie Eating Contest
1:00pm Neil and the Blondies Band
2:00pm Let Freedom Ring: Cornwall's Church Bells
2:05pm Sam the Magician
2:45pm Trivia for the Family with Sam Hall
3:00pm Macaroni the Clown
3:30pm Declaration of Independence (St. John's Episcopal Church: 534-5475)
3:45pm Singer Nick Logerfo
4:30pm Main Street Mile (Sponsors: Hudson Valley Foot Associates, Quigley Brothers Funeral Home & Windsor Dental Center)
5:00pm Cornwall Independence Day Parade
5:30pm Main Street Mile Awards Ceremony
6:00pm Flag Ceremony: Pledge of Allegiance, National Anthem, Invocation
6:30pm Cornwall Independence Day Historical Pageant
7:30pm Cornwall Reunion Band
9:30pm Raffle Drawing
9:30pm Cornwall Independence Day Fireworks

Visit www.cornwall4th.org for details.



Comments:
Add a Comment:
Please signup or login to add a comment.