General News: New Cornwall Senior Citizen Bus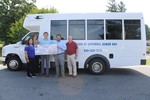 Skoufis Secures $85,000 for New Cornwall Senior Citizen Bus

July 06, 2022

7/6/22

Skoufis Secures $85,000 for New Cornwall Senior Citizen Bus

Senator James Skoufis (D-Hudson Valley) presented officials from the Town of Cornwall with a grant of $85,000 to enable the purchase of a new senior citizen dial-a-bus bus. The bus will transport up to a dozen seniors at a given time for daily trips throughout Cornwall and to shopping destinations in Middletown, Newburgh, and New Windsor.

"Ensuring our seniors can retain their independence as they age is a key quality of life issue," said Senator Skoufis. "Cornwall's senior population has been steadily increasing in recent years, and local leaders must do all they can to support and respond to the needs of this vibrant constituency. I was delighted to work with the town to secure this important funding."

"Thanks to a state grant from Senator Skoufis, the Town of Cornwall was able to replace a senior bus that reached the end of its useful life," said Town of Cornwall Supervisor Josh Wojehowski. "This is a win for taxpayers and seniors alike as the grant covered the full cost of the new bus."

A new bus schedule will soon be posted on the town's website. Pickups can also be arranged by calling the Cornwall Recreation Department at (845) 534-2070.


Comments:
Add a Comment:
Please signup or login to add a comment.