Click to visit the
Official Town Site

General News: Citizens of the Month Award to Nannini family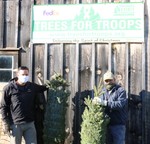 Orange County Executive Steven M. Neuhaus and Bob Nannini, owner of Farmside Acres in Cornwall

December 03, 2020

12/03/2020
County Executive Neuhaus presents the Nannini family with Citizens of the Month Award for December

The Nanninis own Farmside Acres in Cornwall, which has participated in Trees for Troops since 2009

Goshen, N.Y. – Orange County Executive Steven M. Neuhaus has named the Nannini family of Cornwall as December's Citizens of the Month Award winners.

For more than a decade, the Nanninis, who own Farmside Acres, have collected more than 6,500 trees for the FedEx Trees for Troops program, which brings farm-grown Christmas Trees to U.S. troops and families at military bases in the U.S. and overseas. Farmside Acres is one of the country's top Trees for Troops donors.

"Since 2009, the Nannini family has brought the community together for Trees for Troops, which is a wonderful way to provide some Christmas cheer to our brave servicemen and women and their families," Neuhaus said. "This donation drive is well-run and well-received and the Nannini's take great pride in hosting the event as a family. I'm glad that this meaningful event has continued to grow and I'm proud to recognize this hard-working and generous family."

Neuhaus joined Orange County Legislator Kevin Hines and Assemblyman Colin Schmitt at Farmside Acres on Thursday, December 3rd to load trees on FedEx trucks to be delivered to military families.

This year, Farmside Acres will send approximately 1,300 Christmas trees to local soldiers and to servicemen and women at Fort Knox, a U.S. Army installation in Kentucky, Camp Lejeune, a U.S. Marine Corps base in North Carolina and the Marine Corps Air Station in North Carolina. Bob Nannini, who founded Farmside Acres in 1994, came up with the idea to participate in Trees for Troops 11 years ago, after learning that no farm in Orange County took part in the initiative.

Nannini's wife, Leslie, his two sons, Jay and Rob, and daughter, Leigh Nannini-Rivas, have spearheaded Farmside Acres' Trees for Troops initiative. They were inspired by their family's own service to Country. Bob's dad, Armand, served in World War II with the U.S. Army. Leslie's father, Lt. Col. George Blednick, was a U.S. Air Force fighter pilot in the Korean War and World War II.

"We are proud of our military ties," Nannini-Rivas said. "We wanted to give back to the military and this is what we thought we could do as tree farmers. The support over the years from the community and County Executive Neuhaus has been amazing. Executive Neuhaus has supported us from the beginning and is always on hand loading trees, which we appreciate. We are grateful that he has taken such an interest in Trees for Troops and for recognizing this wonderful program."

Trees for Troops provides farm-grown Christmas Trees to United States armed forces members in all branches of the military and their families, through donations, sponsorships, grants and the work of many volunteers. Since 2004 when the program was launched, FedEx has shipped more than 250,000 real Christmas trees to service members and their families in every branch of the military on approximately 75 bases in 17 countries, at no charge.

Last year, Trees for Troops delivered 18,636 farm-grown Christmas Trees donated by roughly 400 Christmas Tree growers, retailers, and their customers in 25 states.





Comments:
Add a Comment:
Please signup or login to add a comment.