Schools: Musical Yummies Night a Success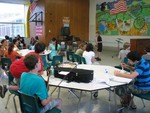 and played musical instruments.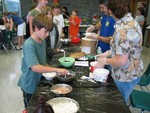 Everybody enjoyed ice cream sundaes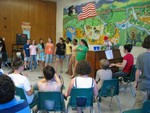 Students sang

June 13, 2007



By Steve Kessler

On Tuesday evening at Cornwall Central Middle School, the Music Boosters hosted the 3rd Annual "Musical Yummies" night. The event was another rousing success both musically and financially, raising in excess of $600 through ticket sales, baked goods and basket raffles.

Well over 70 student musicians sang and performed on their instruments throughout the evening. Of course, the highlight of the night is the "make your own sundae" feature, which easily emptied almost five tubs of ice cream during the two-hour event.

Monies raised at this and other Music Booster functions help enhance the music department and allow the music students at the middle school even more opportunities. Such opportunities include music trips for community outreach and many other events throughout the year.

Even though there were so many "behind-the-scenes" helpers, a big thank you goes out to Nancy Fasano and family, Carol Stein and family, Marcy Noble and family, Donna Chatfield and family, Mindy Sharp and family, Diane Hines and family, Scott Ransbottom and family and Lori Suckling and family as well as the CCMS music staff for their help throughout the evening. Plans are already being made for next year's event!




Comments:
Add a Comment:
Please signup or login to add a comment.