Art Show at the Library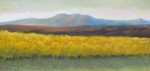 painting by Judy Reynolds

April 27, 2023

Cornwall Public Library Presents Art Exhibit by Judy Reynolds

CORNWALL, NY – The Cornwall Public Library will host a Meet the Artist Reception on Thursday, April 27, 2023 at 1:00 p.m. to kick off the art exhibit, The Hudson and Beyond, by local artist Judy Reynolds.
Primarily self-taught, Judy Reynolds has created landscapes and still-life paintings in either oil or pastel medium for over thirty years. As a native of the Hudson Valley, most of her work is focused on the Hudson River and surrounding mountains, fields, and marshes. The dreamy marshlands in Maine also offer Judy inspiration for her artwork. Judy's favorite seasons to capture on canvas are late fall and early spring filled with sunsets, storm endings and foggy marshes, rich with the changing colors of the seasons.
Ms. Reynolds's work will be on display in the Community Room at the Cornwall Public Library until June 29, 2023.




Comments:
Add a Comment:
Please signup or login to add a comment.