Village Wide Yard Sale Oct. 16th 9-4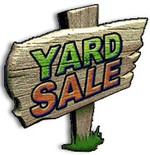 Village-Wide Yard Sale

October 16, 2021

The Annual Cornwall-on-Hudson village yard sale will be held Saturday, October 16, 2021 rain or shine. It will run from 9 am to 4 pm and is open to all village residents. There is no fee to participate in the yard sale. Any questions, contact Barbara Gosda at 854-534-9367.

Stop at village hall on the day of the sale to pick up a map of our village and the list of locations.








Comments:
Add a Comment:
Please signup or login to add a comment.