Jedi Academy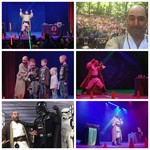 Jedi Academy at the Library

August 01, 2019

Cornwall Library Offers Family 'Jedi Academy' Program


CORNWALL – Cornwall Public Library will host a special program, "Jedi Academy," at 6:30 p.m. Aug. 1 at the Library. David Engel will present this engaging program, which is suitable for all ages.

A long time ago and not so very far away, children yearned to be Rebels. You are invited to learn the ways of the Jedi with Panniken Moonjumper, a true Master of Intergalactic Fun and Adventure. Family audiences will be treated to comic antics, exciting physical challenges, magical mayhem, light-saber lessons, and a visit from our space hero's furry alien sidekick.
As an actor, Engel has performed Shakespeare, Restoration comedy, contemporary drama and spectacle theater. He has more than 30 commercial, film and television credits, including Law & Order, Gossip Girl, The Untouchables, Early Edition and Missing Persons. Engel is also an accomplished theatrical fight director, with 35 productions to his credit.
"Jedi Academy" is part of the Cornwall Library's Summer Reading Program, "A Universe of Stories." This is a family drop-in program. No registration is required.



Comments:
Add a Comment:
Please signup or login to add a comment.