CCMS PTO Fundraiser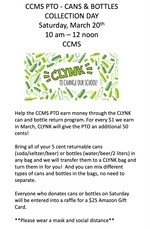 CCMS PTO fundraiser

March 20, 2021

CCMS PTO - CANS & BOTTLES COLLECTION DAY

SATURDAY, MARCH 20TH 10 AM-12 NOON AT CCMS

HELP THE CCMS PTO EARN MONEY THROUGH THE CLYNK CAN AND BOTTLE RETURN PROGRAM. FOR EVERY $1 WE EARN IN MARCH, CLYNK WILL GIVE THE PTO AN ADDITIONAL 50 CENTS!

Bring all of your 5 cent returnable cans and bottles in bags, all can be mixed. Be entered into a raffle for a $25 amazon gift card

Please wear a mask and social distance.






Comments:
Add a Comment:
Please signup or login to add a comment.