Property Tax Exemptions for Veterans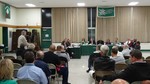 Photo by Jim Lennon. Dick Randazzo spoke at the Cornwall School Board Meeting regarding the Veteran's Property Tax Exemption.

October 25, 2014

By Jim Lennon

RE: Veterans Exemption.
Attached is a photo taken at the packed Cornwall School Board Meeting Public Comment session October 6th 2014 in the Lee Road Elementary School.
No one spoke against the passage of the exemption.
Below find Dick Randazo, a vet and the former Cornwall Supervisor, addressing the School Board and advising passage of the measure.
Dick is also a member of the American Legion.


Comments:
Add a Comment:
Please signup or login to add a comment.