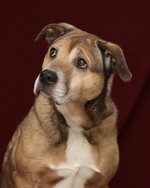 Asia Needs a Home. Photo by Toni Lund.

June 25, 2014

Asia is a 12 year old Austalian Shephard mix, spayed female. She is obedience trained and very quiet and polite. Definitely a sweet older gal! Loves to lay in the sun and be pet. Usually looks as though she is deep in thought, as seen in her above picture, but when running around the yard will sometimes actually smile and it's a delight to catch! You can see this in the video below. Very easy going and just wants a nice quiet home to fit her personality. She would also like to be the only pet in a home.

If you see a dog or cat that you would like to welcome into your home and family, please call the Canine Sanctuary at 845-534-8414 and fill out the online adoption application

.





Comments:
Add a Comment:
Please signup or login to add a comment.