Coast Guard towing small boat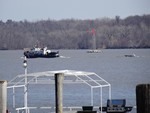 Photo by Jim Lennon. Coast Guard towing small boat on Hudson River.

April 12, 2014

from Jim Lennon
Photo taken yesterday afternoon from Cornwall Yacht Club of a U.S. Coast Guard Cutter towing an apparently disabled small water craft (engine in the up position) with 2 occupants north on the Hudson. Possibly a rescue in progress on the Hudson.



Comments:
Add a Comment:
Please signup or login to add a comment.