Middle School Band Plays at Library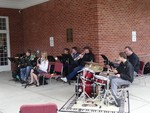 Photo by Jim Lennon. The CCMS Band.

April 08, 2014

from Jim Lennon

The Cornwall Middle School Band, under the direction of Steve Kessler played an outside concert this afternoon at the Cornwall Library so as to entertain residents coming to vote in the Library election held today, April 8, 2014.


Comments:
Add a Comment:
Please signup or login to add a comment.