Boat up a Tree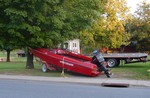 Photo by Linda Bates. Up a Tree without a Paddle.

September 27, 2013

Photo by Linda Bates
Evidently a boat became loose from a vehicle and ended up below a tree in front of Rings's Pond. Quality Towing responded and removed the boat.




Comments:
Add a Comment:
Please signup or login to add a comment.