Highland Morning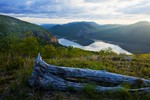 Photo by Tom Doyle. Highland Morning.

August 03, 2013

Attached is an image made fron the top of Crow's Nest looking north with Storm Hing on the left.
The sun had just cleared the mountains to the east and the light was very beautiful.
Tom Doyle

Click on photo for larger view.



Comments:
Add a Comment:
Please signup or login to add a comment.