Pool Days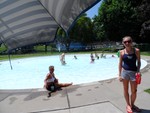 Photo by Jim Lennon. Cooling off at the kiddie pool.

July 24, 2013

Photo by Jim Lennon
Town Board candidate Helen Bunt (seated on edge of pool) and Cornwall Recreation Life Guard Kaylan Luhrs (standing) at Town pool on Thursday, July 18th as children enjoy the pool in the oppressive 100+ heat in background.



Comments:
Add a Comment:
Please signup or login to add a comment.