Cleaning the Pond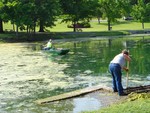 Photo by Jim Lennon. Alice Becker and Rich Watts clean algae from the pond.

June 21, 2013

Photos by Jim Lennon

Town Building & Grounds cleaning the algae out of Rings Pond in preparation for the "Fishing Derby" this weekend and the 4th Celebrations.




Comments:
Add a Comment:
Please signup or login to add a comment.