Windsurfing at 67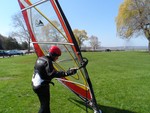 Photo by Jim Lennon. Windsurfing at 67.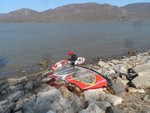 Photo by Jim Lennon. Windsurfer Ned Crossley.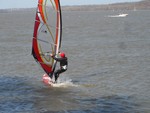 Photo by Jim Lennon. Ned Crossley out on the water.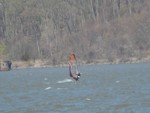 Photo by Jim Lennon. Ned Crossley windsurfing on the Hudson.

May 09, 2013

By Jim Lennon

I was down at Donahue Riverfront Park in Cornwall-on-Hudson this afternoon, Wednesday, April 24, and I observed a senior citizen on the grass by the water putting together what I had thought was a large kite. A number of other seniors were also watching this man.

You can imagine my surprise when, as I approached him and asked if it was in fact a kite. He laughed and said no, that it was a "wind surfboard".

I looked at this man in his late 60's and I was flabbergasted. We began to talk and Ned Crossley introduced himself.

While we spoke I helped zipper his wet suit and Ned told me he formerly was a physical education instructor at the U.S. Military Academy at West Point and he had been windsurfing for over 25 years.

Ned explained the intricacies of the his sport and after watching the wind and current for a bit, said it was time for him to go.

Ned carried his "surfboard" out into the Hudson, mounted it easily and then he was gone in a flash, like the wind itself, riding that "surfboard" clear out of sight, into the center of the choppy Hudson.

The other seniors and myself just stood there and watched in awe as this senior citizen, age 67 of Cornwall-on-Hudson, one of our generation, did what most of us probably could not have done in our long forgotten youth, many moons ago, race with the wind and win!

Click on photos for larger view.



Comments:
Add a Comment:
Please signup or login to add a comment.