Zombie Night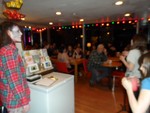 Photos by Jim Lennon. Dani Cortes, 2 Alices "Zombie" Hostess, standing by counter observing the festivities.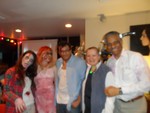 Dani Cortes (the 2 Alices "Zombie" Hostess), friends Nicole Alessandrino (won best costume) and David Cruz, and Art & Liz Farrar enjoying the fun!

April 11, 2013

Customers were invited to a new event at 2 Alices entitled What s your Zombie Plan?
What would you do if you woke up tomorrow morning and the world was taken over by zombies? How would you survive?

from Jim Lennon:

My wife and I went to "2 Alices Coffee Lounge and Internet Cafe", located in Cornwall on Hudson (311 Hudson St.) tonight (Friday, March 29th) and had the best time we have had in years.

As it turned out, 2 Alices scheduled an audience participation "Zombie Night", the first they have held, and it was just fantastic.

We arrived at 2 Alices at 7:50pm, and we were surprised to see a number of customers, young and mature alike, in costume, dressed in their own personal interpretation of what a "Zombie" would look like if they were to exist and how they would escape from a "Zombie" invasion.

We stayed at 2 Alices until 10pm when the audience participation, and awards, had ended and had a terrific time! We will definitely visit 2 Alices again, very soon.

Note: Specialty Beers and wine as well as "snackies" and light homemade and local food and cheese were also available.




Comments:
Add a Comment:
Please signup or login to add a comment.