Cornwall Yacht Club Dock Preparation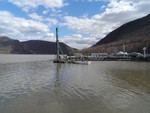 Photo by Jim Lennon. Cornwall Yacht Club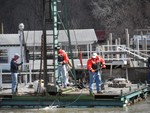 Photo by Jim Lennon. Yacht Club Members prepare docks for season.

April 11, 2013

Photos by Jim Lennon

4/2/13

Members of the Cornwall Yacht Club, located adjacent to Donahue Memorial Riverfront Park, were out on the water today installing docks, markers and moorings in preparation for upcoming 2013 boating season.

Members of the Yacht Club also voluntarily assist with preparations of the "Public Boat Launch Dock" at Donahue Memorial Riverfront Park.


Comments:
Add a Comment:
Please signup or login to add a comment.