Prepping for New Year's Eve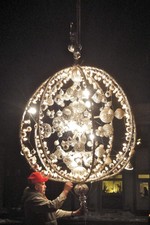 Eugene Conley held the New Year's Eve ball steady, getting ready to welcome 2013.

January 04, 2013

Eugene Conley holds the traditional New Year's Eve ball while the SKFE truck raises it up to to it's place.

Click on photo for larger view.



Comments:
Add a Comment:
Please signup or login to add a comment.