Town Traffic Circle in the Snow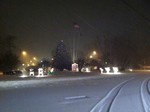 Photo by Jim Lennon. Cornwall Traffic Circle in the Snow.

January 03, 2013

Jim Lennon took this photo of

Chadeayne Circle in Cornwall during the snow storm on December 26, 2012.




Comments:
My father, who's memorial is in the center of this photo, would love that they are having Christmas decorations around it!
Add a Comment:
Please signup or login to add a comment.