CCHS Class of '65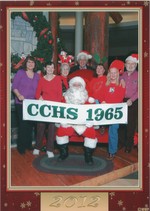 Photo from George Kane. CCHS Class of 65 with Santa.

December 16, 2012

From George Kane.

Part of our CCHS class went to the Newburgh Mall today and had a photo shoot with Santa.

The Cornwall High School Class of 1965 would like to wish everyone a safe and happy Christmas season.
May peace, friendship and joy come your way every day of the coming new year.

Click on photo for a larger view.



Comments:
Add a Comment:
Please signup or login to add a comment.