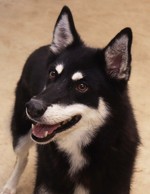 Gizelle needs a home.

October 02, 2012

Gizelle is a 1 year old Alaskan Malamute. She is very attached to her mom, Lizzy, and if possible, we would like to place them together. Gizelle is sleek and graceful with beautiful markings. She is spayed and vaccinated.

If you see a dog or cat that you would like to welcome into your home and family, please call the Canine Sanctuary at 845-534-8414 and fill out the online adoption application.


Comments:
Add a Comment:
Please signup or login to add a comment.