Medivac Chopper Landing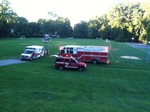 Photo by Jim Lennon. Medivac chopper landing 091512

September 15, 2012

MEDIVAC "CHOPPER" LANDING AT 6:24 PM, SATURDAY, SEPTEMBER 15th, 2012, BEHIND CORNWALL ON HUDSON ELEMENTARY SCHOOL TO AIRLIFT INJURED MOTORCYCLIST AFTER HEAD-ON MOTORCYCLE VS CAR ACCIDENT ON ROUTE # 218 AT THE HIGH POINT LOOKOUT.
Photo by Jim Lennon.


Comments:
Add a Comment:
Please signup or login to add a comment.