Indian Summer Day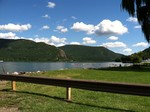 Photo by Jim Lennon. Indian Summer Day

September 09, 2012

Canoeists, sail-boaters, power-boaters, sightseers on a ferry, railroad train on the move across the river, mountains, billowy white clouds in a clear blue sky, high tide -> what better way to enjoy a Indian Summer day!


Comments:
Add a Comment:
Please signup or login to add a comment.