Rolling Thunder XXV Theme Song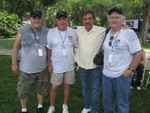 Photo by Mike Raab. Fred Buck, Jack Dougherty, Joe Mantegna ("Criminal Minds" television show) and Mike Raab.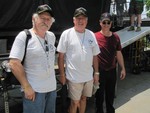 Photo by Mike Raab. Mike Raab, Jack Dougherty and Gary Sinese ("CSI: New York" and Lt.Dan in "Forrest Gump."

August 15, 2012

by Mike Raab

Over one million vets, families, friends and supporters attended Rolling Thunder XXV this past Memorial Day in Washington D.C.

The Jelly Bean Bandits, made up of several musicians originally from the Cornwall region, wrote the official theme song, "Rolling Thunder," and the music video can be seen on YouTube a www.youtube.com/watch?v=gTgXndqo96E . The video has been recently nominated for a Grammy in the Best Short Form Music Video category.

Members of the group include lead guitarist Jack Dougherty (formerly Fort Montgomery), bass guitarist Fred Buck (currently New Windsor), keyboardist Mike Raab (formerly Cornwall) and drummer Joe Scalfari (formerly New Windsor).






Comments:
Add a Comment:
Please signup or login to add a comment.