Where Shall We Go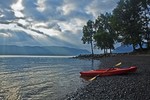 Where Shall We Go. Photo by Tom Doyle.

August 07, 2012

"At 5:45 am the light looked lousy, high overcast but I decided to go to Plum Point anyway." said Tom Doyle. "I did some practice shots and then someone showed up with an orange kayak and the sky started to break."


Comments:
Add a Comment:
Please signup or login to add a comment.