On Ring's Pond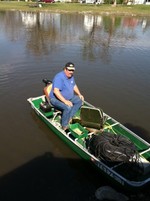 On Ring's Pond. Photo by Kevin Quigley.

April 17, 2012

Town supervisor Kevin Quigley took this photo of grounds superintendent Albert Conley who took a small motor boat into Ring's Pond on Monday to install a water aerator.

Click on the photo for a larger view.



Comments:
Add a Comment:
Please signup or login to add a comment.