Moonset at the Trestle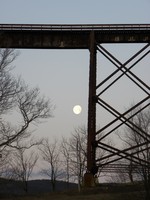 Moonset at the Trestle. Photo by Maureen Moore.

March 12, 2012

Maureen Moore took this photo and send it in with these words: "I was out Saturday to shoot some sunrise photos and took notice that there was a really distinct moon still shining. The moon happened to be right behind the Moodna Viaduct. I thought this would make an interesting photo."

Click on the photo for a larger view.




Comments:
Add a Comment:
Please signup or login to add a comment.