Bald Eagle in March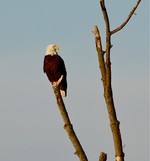 Bald Eagle in March. Photo by Karen Schaack.

March 10, 2012

Karen Schaack, who lives near the river in Cornwall-on-Hudson discovered recently that there is no place like home when it comes to spotting eagles. She writes: "I went to PA today to go look for eagles and Geo Cache. We had a wonderful time but didnt see any bald head eagles. Arriving back in Cornwall, what do I spy? This beauty ! "

Click on the photo for a larger view.




Comments:
Add a Comment:
Please signup or login to add a comment.