Eagle at Rest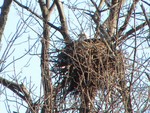 Eagle at Rest (close up). Photo by Maureen Moore.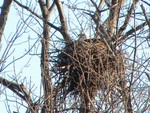 Eagle at Rest. Photo by Maureen Moore.

February 28, 2012

Maureen Moore took this photo over the weekend of an eagle at rest in a nest.

She writes that she "went over today to check on our local eagles nest. Managed to photograph one of the pair sitting on the nest. I believe it is a little early for eggs yet, so I'm guessing that the eagle was enjoying the soft spot to relax. Many times I see the eagles gathering grass for the nest so I believe it is very well-cushioned."

Click on a photo for a larger view.




Comments:
Since I've taken these photos I have visited the nest twice. Both times the eagle has been sitting on the nest which most likely means there is an egg in the nest.
Where is this nest?
Add a Comment:
Please signup or login to add a comment.