Moonglow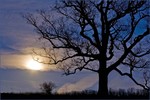 Moonglow. Photo by Tom Doyle.

January 09, 2012

Tom Doyle took this photo last month of an oak tree with the moon behind it. He writes that he likes the contrast of the glowing moon softened by thin filter of clouds and the hard graphic outline of the backlit ridgeline and the oak.



Comments:
Add a Comment:
Please signup or login to add a comment.