Kenridge Farm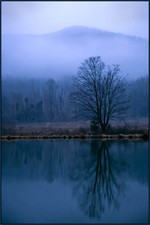 The Fog Comes on Little Cat Feet. Photo by Tom Doyle.

December 26, 2011

Tom Doyle took this photo at Goose Pond on Kenridge Farm on a late afternoon in December.

He writes: "I framed the tree and its reflection and waited as the mountain in the background appeared and disappeared in the mist."

Click on the image for a larger view.




Comments:
Add a Comment:
Please signup or login to add a comment.