Santa in the VIllage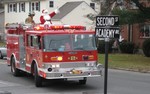 Santa in the Village. Photo by Jim Lawless.

December 18, 2011

Jim Lawless heard Santa outside his house on Saturday and took this photo of the jolly old elf as he toured Cornwall-on-Hudson on the back of a firetruck.

Click on the photo for a larger view.



Comments:
Add a Comment:
Please signup or login to add a comment.