Hudson Highlands from Up in the Air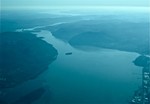 Hudson Highlands View. Photo by Jim Lawless.

December 17, 2011

Jim Lawless took this photo of the Hudson Highlands from about 6,000 feet up in the air.

He writes: "Iwas fortunate to be in the co-pilot's seat of a friend's twin turboprop last Sunday climbing high and fast out of Stewart. This view shows Newburgh and Cornwall Bays, Bannerman's Island, Breakneck and Storm King Mountains, West Point and on south to Haverstraw Bay. The vertical vapor plume from the Indian Point Nuclear Power Plant can be seen around the third bend in the Hudson."

Click on the photo for a larger view.




Comments:
Add a Comment:
Please signup or login to add a comment.