Indian Point in the Morning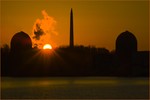 Temple of Doom. Photo by Tom Doyle.

December 13, 2011

Tom Doyle says he is not trying to make a political statement, but an architectural one with the title of this photo, "Temple of Doom." Doyle says that the structures reminded him of the Taj Mahal and he wanted to emphasize their strong shapes.

Click on the image for a larger view.



Comments:
Add a Comment:
Please signup or login to add a comment.