Nativity at Sunrise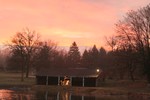 Nativity at Sunrise. Photo by Maureen Moore.

December 06, 2011

Maureen Moore took this photo of the nativity scene at Ring's Pond in Cornwall as the sun rose Monday morning.

Click on the image for a larger view.



Comments:
A welcome site as I remember it from childhood. Thank you
Add a Comment:
Please signup or login to add a comment.