Nativity Reflection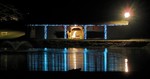 Nativity Reflection. Photo by Jim Lawless.

December 05, 2011

Jim Lawless took this photo of the nativity scene near Ring's Pond that is amplified by its reflection in the water.

Click on the image for a larger view.



Comments:
Add a Comment:
Please signup or login to add a comment.