Truck Loading 101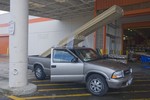 Pick up truck by Tom Doyle.

November 17, 2011

Tom Doyle was at Home Depot recently where, he says, he was unable to resist taking this photo of a truck loaded with lumber. He notes that he particularly likes the technique of puting shrink wrap through the cab.

Click on the photo for a larger view.




Comments:
That is awesome! I would love to see that baby pass under a low bridge.
An accident waiting to happen!
Add a Comment:
Please signup or login to add a comment.