After the October Snowstorm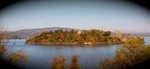 Bannerman's Island photo by Karen Schaack.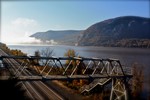 Looking west across the Hudson to Storm King. Photo by Karen Schaack.

November 03, 2011



Karen Schaack took this photo of Bannerman's Island and another one of the view of Storm King Mountain earlier this week and sends along this note:

"Some of the island volunteers went over to do some end of season work on the island. The fall snowstorm didn't seem to do any damage there.

Next year the gardens on Bannerman's Island should be better than ever. I hope more people sign up and take tours, it is well worth it ."

Click on an image for a larger view.




Comments:
this is a great picture thanks Karen!
Add a Comment:
Please signup or login to add a comment.