October Morning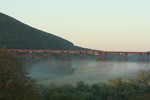 The Moodna Trestle. Photo by Maureen Moore.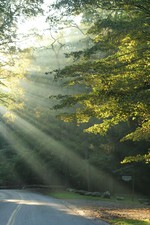 Pagenstecher Park. Photo by Maureen Moore.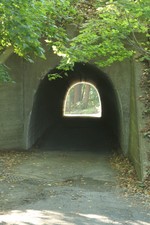 The Tunnel. Photo by Maureen Moore.

October 11, 2011

Maureen Moore took these photos on the morning of October 9 around Cornwall. The first shot is well-known, the Moodna Trestle, shrouded in a morning mist.

The second photo was taken on Dock Hill Road in Cornwall-on-Hudson, where the morning sun shines through the trees.

The third photo was taken at the tunnel that runs underneath Route 9W from the top of Mountain Road, near the Storm King School. An unconfirmed report says the tunnel was built for a farmer whose land was split in two by the addition of the new highway around 1939. The tunnel was used by the farmer to move his cows from grazing field to barn. If anyone knows more about this story. Please leave a comment here.

Click on any image for a larger view.



Comments:
Thank you, Maureen for some beautiful photos. I am part of the family that owned the house at the north end of the tunnel under 9W. My grandfather was born in that house in 1885. When the tunnel and 9W were built in the late 1930s, there were no longer any dairy farms or grazing fields near either end of the tunnel. I believe it was put there for the convenience of people to get to Black Rock Forest and the reservoirs, and for the families that lived south of the tunnel.
The Tunnel. They say when you die you see a light at the end of the tunnel.
Moving photo like the one above.Great shots Maureen.
Add a Comment:
Please signup or login to add a comment.