View from SUNY Orange's Newburgh Campus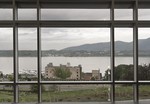 Window. Photo by Mel Kleiman.

October 03, 2011

Mel Kleiman recently took this photo from the campus of SUNY Orange Newburgh, looking out towards the Hudson River.

Click on the image for a larger view.



Comments:
Add a Comment:
Please signup or login to add a comment.