Black Rock Fish & Game Under Water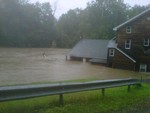 Black Rock Clubhouse submerged by the waters of Woodbury Creek. Photo by Tom Sullivan.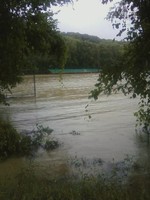 The pavillion and back field under water at Black Rock Fish & Game Club. Photo by Tom Sullivan.

August 30, 2011

The Woodbury Creek swept through Black Rock Fish and Game Club in Mountainville during the Tropical Storm Irene.

In these photos by Tom Sullivan, you can see the roof of the picnic pavillion in the back field and the clubhouse, with water up almost completely covering the back portion.

Click on either photo for a larger view.



Comments:
Add a Comment:
Please signup or login to add a comment.